Bulk container liners 20' 30' and 45'
Container liner for big volumes
Sopack s.r.o. offers Bulk container liners for 20' 30' and 45' containers
ECE Bulk container liners are made of special multi-layer co-extruded LDPE and LLDPE film. Bulk container liners are equipped with funnels that allow gravimetric loading directly from the silo. Bulk container liners have a triangular discharge spout for unloading.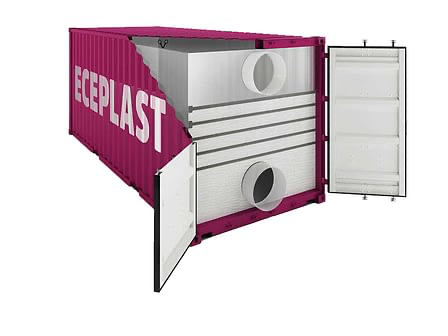 Container liners ISO 20' 30' and 45' depending on the application
- Food grade, container liner is certified for direct contact with food (FDA – EU 10/2011)
- Antistatic film to prevent the risk of explosion
- Barrier film for moisture sensitive goods
- Special insert with anti-bulge patent
Advantages of Bulk container liners
Minimizes transportation costs
More than 200 models available
Automated production process
- The container is gravimetrically loaded directly from the silo.
- Unloading by a tilt container or a pneumatic system