Door end loading container liner
We can provide you tailored made solution and help you to optimise your loading
Sopack offers Door end loading container liner for bulk products
Container inserts are used for efficient and economical transport of bulk materials. The inserted container inserts are reinforced and have a specially designed bulk head with loops for steel bars, which are necessary for storing the goods, while the container door is open during loading and unloading. A wide range of container liners is available, all designed by our qualified research and development team to meet every specific requirement.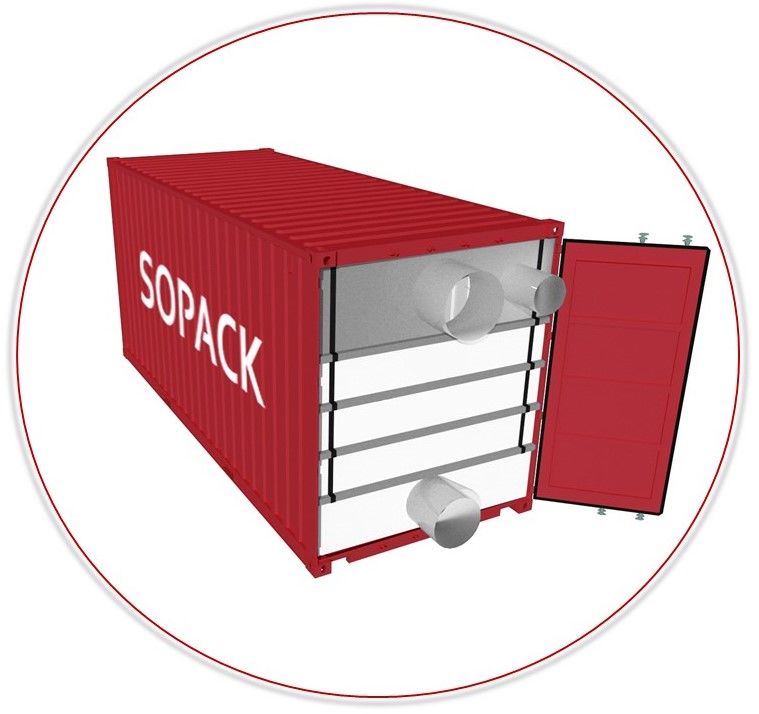 Types of container liners for 20´,40´ and 40´HC, according to use
Food grade: The container liner is certified for direct contact with food (FDA - EU 10/2011) and has a certified manufacturing process (ISO 22000: 2005)
Conductive - Antistatic film that prevents the risk of explosion
Nitrogen barrier film for moisture sensitive goods
Advantages of container liners with door filling
Maximize container space usage
They reduce shipping costs
The Sopack Sopack s.r.o. offers an economical and efficient solution for the transport of bulk materials. Container liners are designed for safe transport of bulk materials, container inserts can also secure the load from moisture, container rain and dirt. Sopack s.r.o. is ready to help you and design the ideal type of container liner.
Loading & unloading using container liners
The inclined container is gravimetrically loaded through the loading hopper directly from the silo
Loaded through the hopper using a pneumatic system, especially for powder or resin
Loading through the hopper using a conveyor, especially for fragile commodities such as malt, cocoa, coffee
Unloading is solved gravimetrically or by a pneumatic system