Cargo Security and protection
in container or truck
Thermoliners           Dunnage bags     Desiccants         Plastic Slip Sheets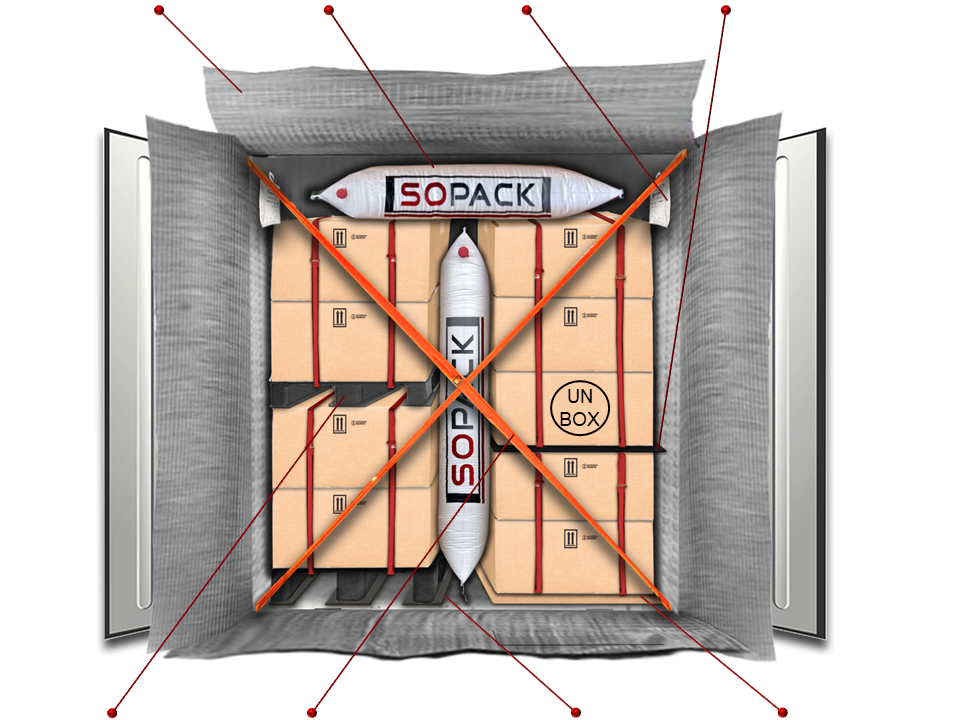 Plastic pallets         Lashing              Antislip mats                 Kraftliner Slip Sheet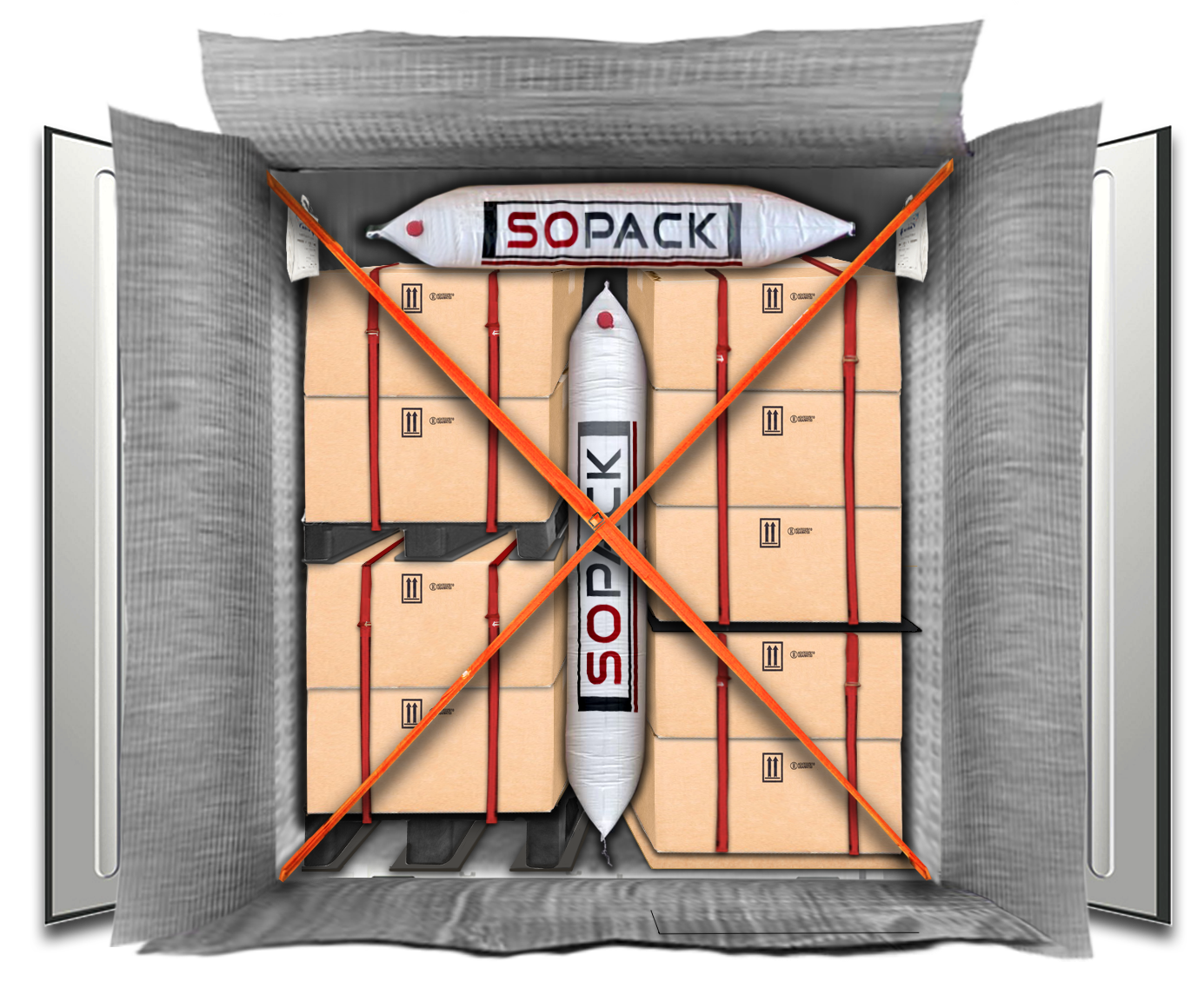 Pallet unit stabilization and protection
Thermo covers          Antislip paper/glue                       Strech film
Edge protectors          Strapping            UN boxes        Paper pallets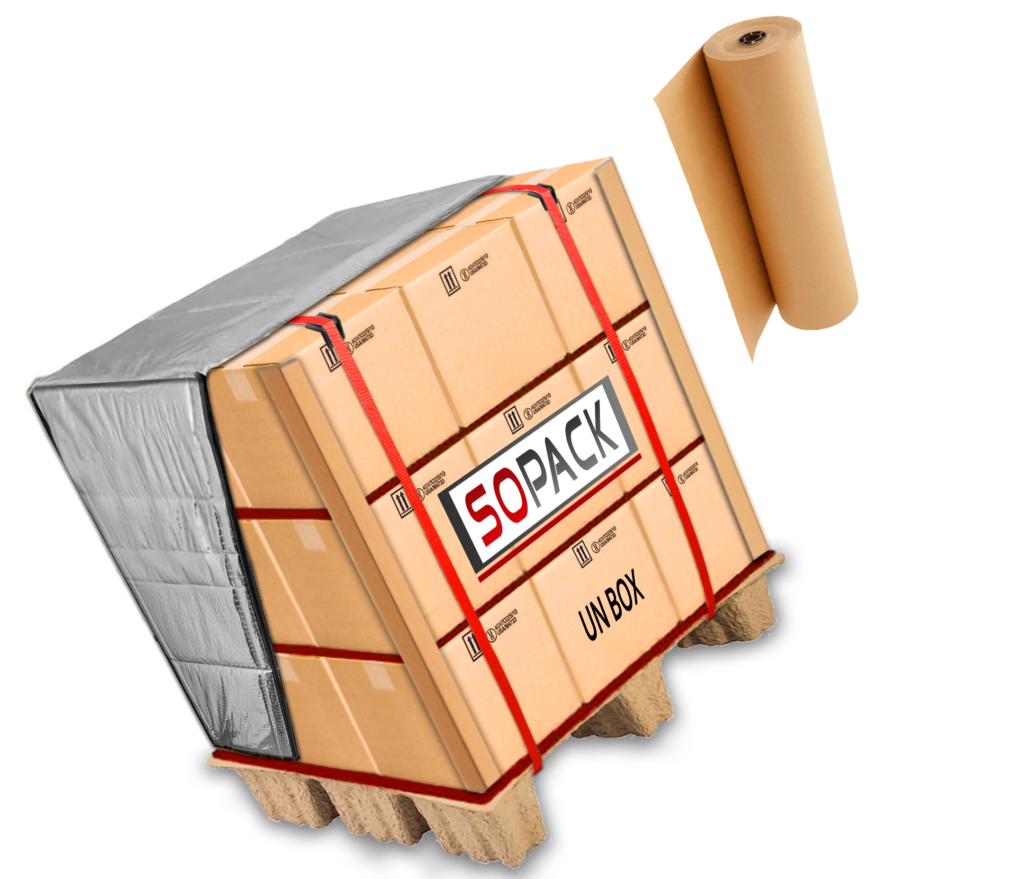 Sopack offers Cargo Security and protection in container or truck
Sopack s.r.o. offers a complete product portfolio for fixing and securing the container. We offer air fixation bags, thermoregulation pads, harnesses, belts, anti-slip pads, desiccants, anti-slip pads, container pads, slip sheet pads and more.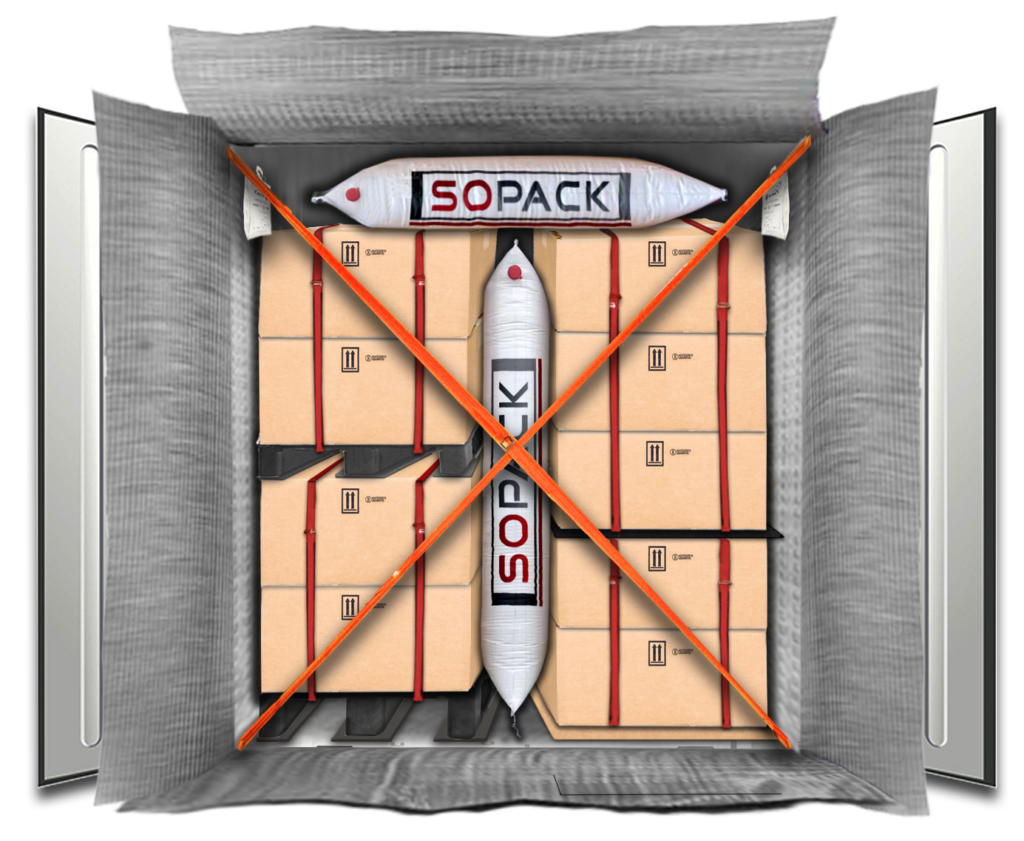 Sopack offer products for stabilization, protection of goods
and fixation in the box
Sopack s.r.o. offers a complete product portfolio for pallet unit stabilization and protection. We also provide filling for boxes. We offer anti-slip sheets, anti-slip glue, edge protectors, UN cardboard boxes, PE strtapping, alternative paper and recycled stretch film, thermoregulation covers for pallets, paper and plastic pallets
Anti-slip sheets for pallet stability
Anti-slip glue = stabilization of bags on a pallet
Edge protectors for pallet stability
Thermo pallet covers for pallet thermoregulation
Paper and plastic pallets
UN cardboard boxes for the protection of dangerous goods
Alternative stretch films
PE tapes for strapping and stabilizing pallets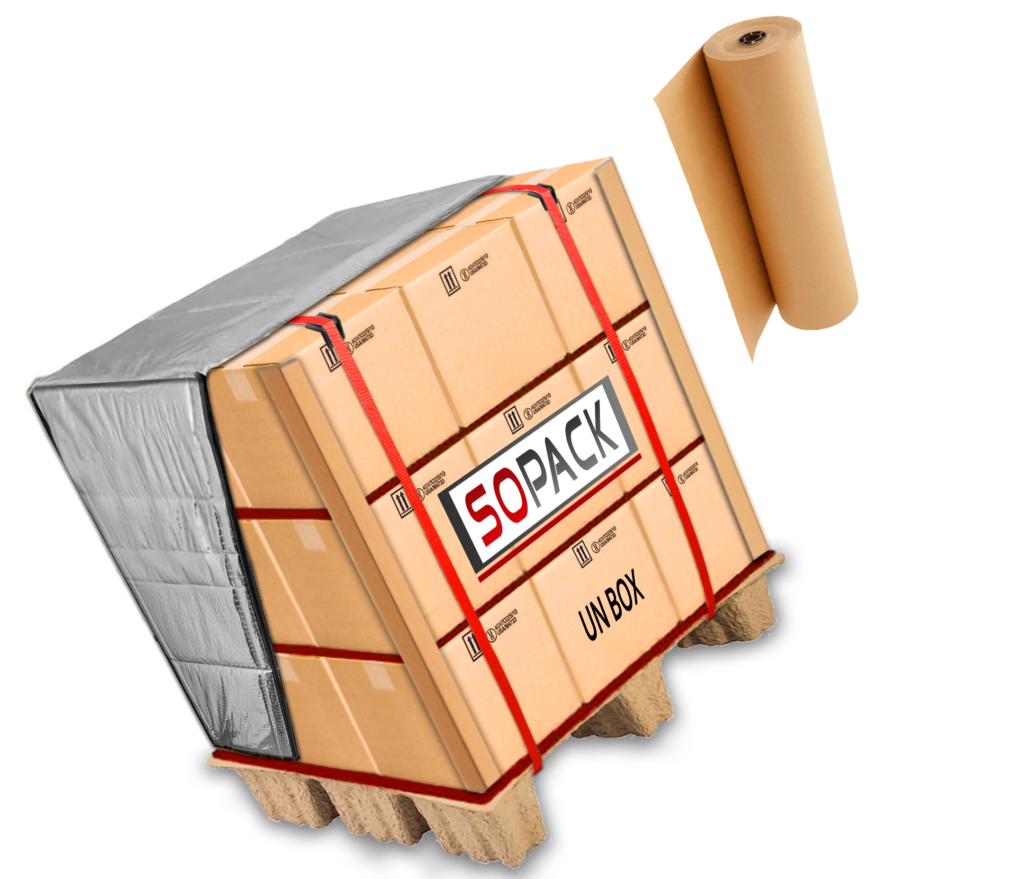 Innovative solutions for packaging materials
The company Sopack s.r.o. offers innovative solutions for individual packaging industries. We offer replacement of standard stretch film with stretch film made from recycled or kraft paper, envelopes made of sheep's wool, which replace envelopes with bubble film. Karopack solution that offers recycling of used cartons in your company and subsequent reuse as a fixing system for packages.
Karopack bags

= Waste recycling and subsequent reuse directly in your company.

Stretch film with up to 90% recycled content

Paper Alternative to stretch film
Sheep's wool envelopes = a great replacement for bubble wrap envelopes
Drumclip = Effective fixation of plastic and metal drums with minimal need for packaging material
Sopack
in cooperation with

Greif Velox

offers pneumatic baggers and entire production lines

for bulk materials and liquids
Sopack and GREIF-VELOX: We are proud of our patents, which offer our customers effective competitive advantages. They reduce cleaning costs, facilitate the bagging of very light bulk goods, improve bagging performance and do much more. We offer you solutions that provide real competitive advantages and keep your production processes flexible. Bagging should never be your "bottleneck", but rather a technological innovation that will reliably support and complement your entire production process.
We always find the right solution for you.
Secure your cargo with air, use dunnage bags from Sopack
The Sopack company offers high quality and cost effective Dunnage Bags / Air Bags. Dunnage bags are simple solution how to protect your goods in truck, container, van or train. We always recommend you the right type of Dunnage Bags according your needs. We have safisation stock capacity to fulfil your requirments. 
Stabilize the product on the pallet with anti-slip paper
Antislip sheets stabilizes a pallet unit and reduces waste from packaging materials. Antislip coating improves the friction between interlayers. Thanks to the anti-slip coating, the paper weight of the tie sheets can be reduced. The Sopack company offers anti-slip sheets from the weight of 60 gr/m2 up to 450 gr/m2. Antislip coating is applied in several patterns such as fully coated (100%), strip coated (50%) and square coated (30%).
Stabilize the product on a pallet with anti-slip adhesive
Antislip agent Grip Fix in order to protect your goods during handling and transport. Antislip adhesive can be applied to your goods by our machine BAG FIX in the form of beads, spray or sponge roll according to the type of package. Grip Fix is a waterbased, water-soluble and transparent adhesive. Antislip agent has high shear strength and low tensile strength. It is agreat solution for paper bags, PE bags, cartons, small packages and PP woven bags.
Slip Sheets replaces and reduces cost for wooden pallets
Slip Sheet offers the possibility to transport goods without wooden pallets. The wooden pallet is replaced by the slip sheet. Slip Sheet is a pallet sized paper sheet with flaps for handling. Slip Sheets are made from krafliner paper or 100% recycled plastic HDPE. The Slip Sheet must be handled by a Push Pull attachment. Sopack can offer Slip Sheets in various thicknesses and different dimensions. Sopack can produce Slip Sheets suitable to your needs.
Thermoregulating pallet covers for individual pallets and entire containers
Sopack s.r.o. offers economical and ecological solutions to protect your goods from the effects of temperature during transport. We offer solutions for thermoregulation of a pallet unit, several pallets at once, but also for full-container shipments in the form of thermoregulatory liners for containers.
Flexi Tanks for the transport of liquids / liquids and their storage
Sopack s.r.o. offers high quality Flexi Tanks for transporting liquids. Flexi Tanks are an economical and efficient solution for transporting liquids. With the Flexi Tank, up to 30,000 liters of liquid can be transported at once. Our patented rectangular shape increases the safety of transporting your fluids.
Flexi Tanks can be used for transport: wine, milk, chemicals, oils, syrups and other liquids, but also as a temporary reservoir of drinking water.
Paper pallet is cheaper and lighet altenative solution to wooden pallets
The Sopack company offers one-way paper pallets made of moulded pulp, honeycomb and corrugated cardboard. The maximal load for paper pallets is usually around 500kg. Paper pallets are lighter, easier to recycle and user friendly. Paper pallets are produced by dry process, thus they don´t need additional treatment such as fumigation etc.
Desiccants against humidity with 300% self-weight absorption
Sopack s.r.o. offers desiccants against moisture. Super Dry desiccants absorb up to 300% of their own weight and are active for 90 days from the first day of use. Sopack s.r.o. offers desiccants from the hygroscopic salt of CaCl2 (Calcium Chloride). This unique material turns moisture into a gel, which prevents water and steam from escaping back into the container. Sopack offers desiccants for moisture in containers as well as cardboard boxes and plastic bags.
Sopack offers container liners for the transport of bulk materials
The Sopack Sopack s.r.o. offers an economical and efficient solution for the transport of bulk materials. Container liners are designed for safe transport of bulk materials, container inserts can also secure the load from moisture, container rain and dirt. Sopack s.r.o. is ready to help you and design the ideal type of container liner.
Air cushions, bubble wrap directly from the machine into boxes
Sopack s.r.o. offers fixation of goods in turnkey boxes, using air cushions and using the Fill Air Rocket or Air nano and others. Sopack s.r.o. offers unique conditions, machine installation and machine service free of charge, rental for a symbolic amount of 1 € / month. You only pay for the delivered rolls for filling boxes or boxes. Arrange a consultation with us today :)