Push Pull attachment manipulates Slip Sheets
Push Pull attachment was specifically developed for Slip Sheet handling
A Push Pull attachment is a hydraulic attachment, which can be easily installed on a forklift in a few minutes.  The Push Pull attachment is specifically developed for handling Slip Sheets. The Push Pull attachment has three important components which are facelift, gripper and forks. The forks carry the load, the facelift pushes or pulls the pallet unit and the gripper grips and holds a flap of theSlip Sheets.
How do you handle Slip Sheets?
Slip Sheets are handled only by a Push Pull attachment.  A Push Pull attachment can be easily installed on a forklift truck. A Slip Sheet is a pallet sized sheet with flaps. The gripper on aPush Pull attachment grips the flap and hydraulic facelift of the Push-Pull attachment pulls the pallet unit onto flat forks. The load can be exported.
Palletless or Slip Sheet handling is quite simple.  A Slip Sheet is pallet-sized, thick paper, which replaces wooden pallets. Slip Sheets can´t carry the load by its self, thus why Push-Pull attachments are constructed with flat forks, which carries the load. Handling of a pallet unit is made by a movable facelift, which can push or pull the pallet unit from stock to container.  A Push-Pull attachment also has a gripper, which grips the flap of theSlip Sheet during the pulling and pushing movement. Slip Sheets together with a Push-Pull attachment can carry loads heavier than 1,5 tone.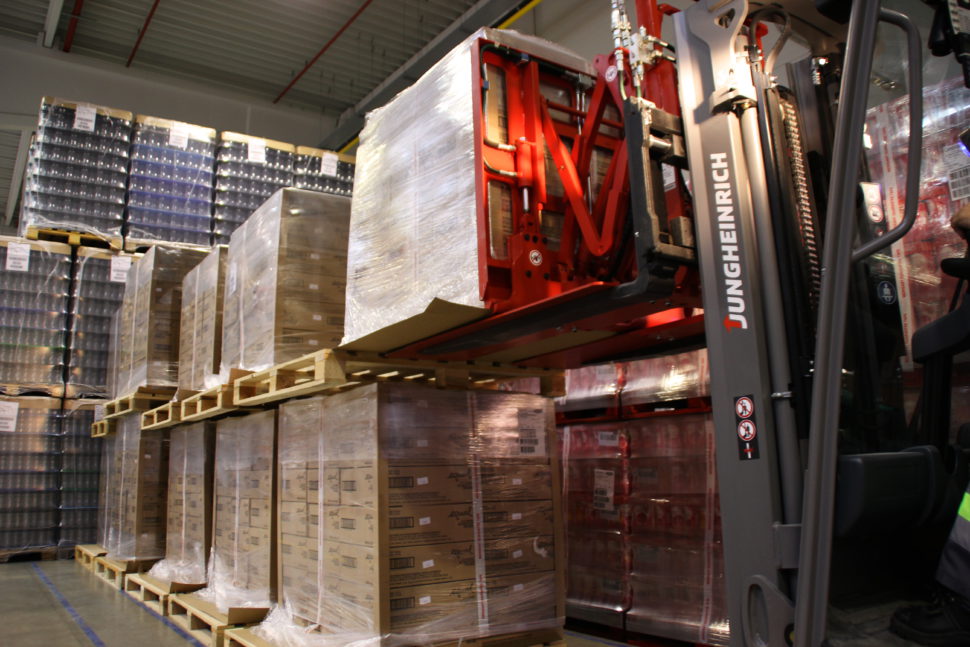 Description of Push Pull attachment