Container liner for hard flowing products
Sopack s.r.o. offers container liners for hard flowing liquids
Our ECE Fluid liners were developed by our team of professionals and are made of multi-layer coextruded LDPE and LLDPE film. ECE Fluid liners are equipped with specially designed air funnels. The air is inflated by the first funnel and it allows easy discharge of hard flowing products such as Cement, Lime, Chalk, Soda, Talc etc. We are updating the list of products which can be used with container liners. We test, improve and innovate our products every day.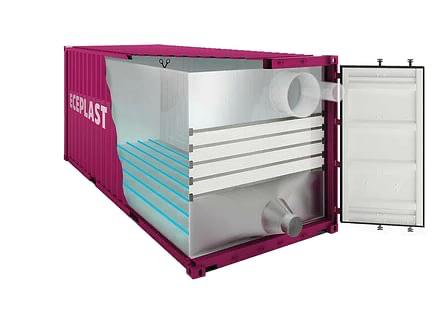 Types of container liners for hard flowing liquids
- Food grade, container liner is certified for direct contact with food (FDA – EU 10/2011)
- Antistatic film to prevent the risk of explosion
- Barrier film for moisture sensitive goods
- Special insert liner for hard flowing liquids
Advantages of Fluid container liners
Minimizes transportation costs
For hard flowing material
Automated production process
- The container is gravimetrically loaded directly from the silo.
- Loading through a pneumatic system.
- Loading through a conveyor system.
- Unloading is possible only with the ECE Fluid system.